By creating our own unique games and putting special twists on the classics, we are able to offer virtual game show experiences unlike anything you've ever played.
Why play only one kind of game when you can play five or more in one show?!
We combine several of our most fun games into one big game show for everyone to play. These virtual game shows will be exclusive to you (only people you give the login and password to will be able to attend, watch, and play). Our host and staff will keep the fun and excitement going while your participants are able to interact with our game software and the other players on their PCs, tablets, or phones. Brain Wash Virtual Game Shows are professionally produced and live-streamed from the Brain Wash Game Show's own studio.
Our Virtual shows will have 100% of your guests interacting 100% of the time and having 100% fun!
It's the most fun you can have with your ZOOM on!
"I had so much fun playing the Party Pack with host Eric Dasher! Games were varied and different with something for everyone to enjoy. I was laughing the whole night!"
Laurel E., Phila., PA
A NON-STOP INTERACTIVE, ENGAGING, MORALE-BUILDING SHARED EXPERIENCE
EVERYONE PLAYS AT THE SAME TIME!

FUN & EXCITING GAME SHOWS COMING TO YOU LIVE-STREAMED FROM A PROFESSIONAL STUDIO

AN AWESOME INTERACTIVE GAME SHOW THAT CAN BE CUSTOMIZED WITH YOUR QUESTIONS
Need help planning your event? Have questions?
Want to BOOK a show?
CALL us at 609-220-3215 or EMAIL us.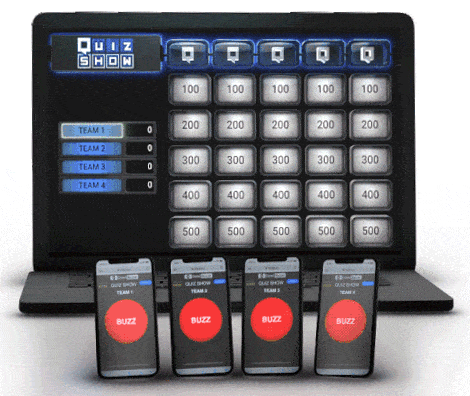 Imagine up to 100+ people all playing this Jeopardy style game show! With QUIZ SHOW you can! Up to 10 players or teams of players can participate in Quiz Show at the same time. Featuring some of the hardest and funniest questions we could find, Quiz show is sure to delight the hard core trivia players of your group!
Frequently Asked Questions:
Q: Is there a limit to the number of players in a game?
A: Most shows are typically under 100 players/teams. Accommodations can be made for up to 2500 players if needed. For large quantities of players, we recommend breaking them into smaller groups to play in several Zoom/Google meet/Youtube Live sessions instead of one big one.

Q: How long is the game show?
A: Our game shows are typically 60 minutes long. However, we are able to modify based on your needs.
Q: Does my organization need to create the questions and answers in advance?
A: While it is not required, it can be a great way to quiz your players on specific subjects, products, or even fun facts about the players themselves. That way we customize the game to ensure maximum employee engagement.
Need help planning your event? Have questions?
Want to BOOK a show?
CALL us at 609-220-3215 or EMAIL us.